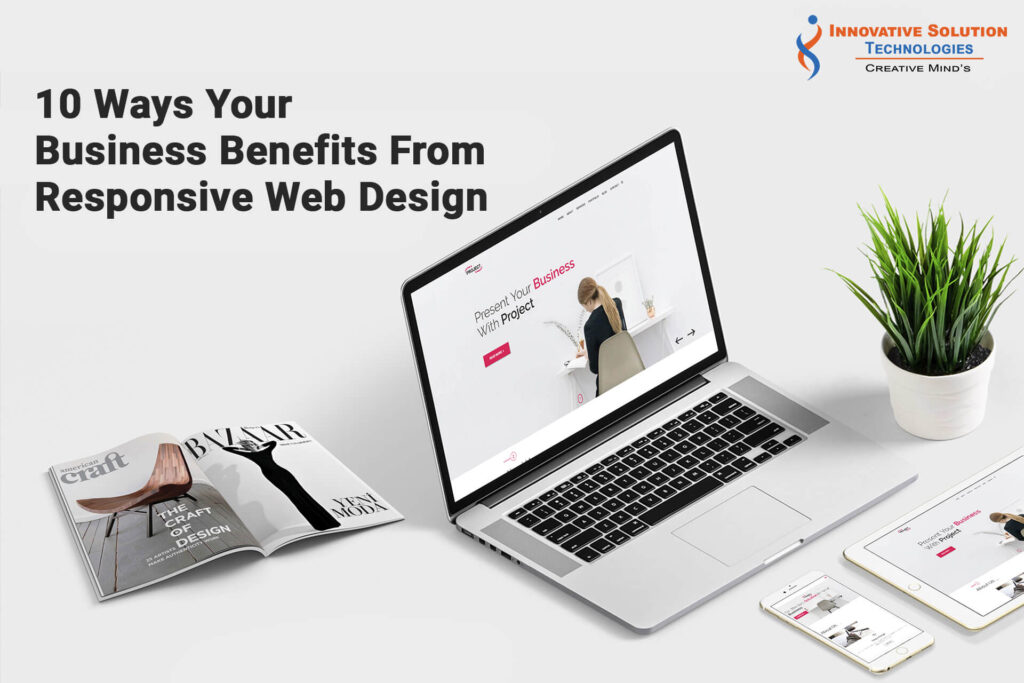 People tend to open your website, only if your website has outsmarted others. A proper layout, theme, and standard font are some of the things you need to keep in mind to have a classic as well as responsive web design. Starting from graphics, animations, music and you name it, are the things that will attract viewers to follow your website.  Furthermore, CSS, JavaScript, and HTML are the programming languages that make up your site static or dynamic.  
A well-designed site gets your website a good number of potential customers, through higher conversion rates. With frequent visits to your website, it provides an impressive user experience and helps to access customers by navigating your website on top. 
Why should you come up with a strategy for web design? 
If you want your business to flow smoothly like a river, then a responsive web design is a considerable and beneficial factor. Furthermore, who likes to read a page, which has poor content, bad UX, and haphazard designs? Definitely, none, because a bad website design will only increase bounce rates, and decrease conversions. Also, the first impression is the bests the right moment to gain lifetime customers instantly. And lastly, great e-commerce software will resolve other issues virtually and forthwith.  
What does a responsive website look like?  
Proper site architecture is what makes a responsive website powerful. And here are a few tips and tricks to make sure you got the website right.  
Have visuals, subheadings, info graphics, pictures, effective videos, charts to represent your plan. In addition to that, create layouts that are positioned, lucid, placed, pleasant, and not complex for customers' view. For the subsequent page, corroborate the topics are clearly mentioned, with no messy work. On the whole, a responsive web design has to be neatly organized. 
Read more to know more about the ten ways, that your responsive web design can benefit your business:
1. More visitors:
A responsive web design grabs people's attention. However, it should have a custom font size depending on the screen size. And this can be done only with the help of digital designers. Following that, create interactive website features, produce engaging video content,  simple designs, use effective call-to-action buttons, assist customers with a good UX, and moreover, the content has to be informative and relevant to your business.  
2. Cost-free development:
To have a responsive website, one must refer to codebases, as they are the rudimentary program that builds a particular software, application, or website for a business. Building multiple codebases and hosting URLs will only cause more investment. However, a responsive website has a single codebase with optimized styling sheets that adjusts according to the device's display screen. Henceforth, the maintenance and support costs are managed properly herein.  
3. Enhancement of your conversion rates:
No matter, whether your website is viewed on desktop, mobile, or a PC, your content remains perfect and unique throughout. The consistency in your good content and visual representation of your business only increases your page's User experience. Ultimately, grabbing customer's notice to your site. By then, your site will compete against other top-notch sites, thereby increasing your conversion rates every time a customer visits your site in the search results.  
4. Increase mobile search engine visibility:
As statistics speak, the count of mobile users over the whole time has increased double the initial rate. With this change, the mobile search engine results also noticed a drastic progression. A responsive website understands the user's screen, by adapting the viewport's width and thereby rendering readable content with clear font and information. Over and above, considering the difference between mobile and computer users, mobile users are much greater in number than any other type of users, ultimately, making use of mobile SEO efficiently.  
5. Lower bounce rates:
Bounce rates mean the percentage of visitors that have visited a particular website, but are navigating to another site, after viewing just the first page. On the whole, the whole content of your business will be overlooked.  Meanwhile, a responsive website holds the viewer for much longer, eventually lowering the bounce rates of your business' website. One can increase the bounce rates up to 80%, however, only with good and responsive web design for your site.  
6. Website analytics:
Multiple versions of your website, requires proper assessment. Either through mobile or PC accounts, for a smooth business, one has to keep track of visitors getting in and signing off moments. And for such a reason, a responsive website renders insights into visitors' entry, exit, and how long they spend on the site.  
7. Better back links:
The more back links, the more customers visiting your website. These inbounding links make your website viral, by connecting one website to another. Quality back links help your business by lowering bounce rates, reduced responsive time, high-quality content, and good terms with customers. Construct breadcrumb navigation for a flat organized site structure, which automatically adds internal links according to the categories. 
8. Improved User Experience:
The first and foremost factor of having a responsive website is an adaptable user experience. It is necessary to have a well-designed UX as it is the only factor that meets users' needs accordingly. It aims to provide the best experiences to the users through the business' products and services. Moreover, virtual purchases can be benefited only with an improved user experience. A quick response to the size of the screen, less page load time, easy access to links, menus, products, and other options, plus simple instructions, will coerce customers to believe in your business.  
9. More social sharing:
The idea of sharing the content of a business to social media platforms or any application; boosts the possibility of getting trendy. In this way, social media interaction offers potential customers to express interest in your business and your products. Besides, it enables them to share their business with their friends and family. These interactive technologies share and exchange your business's interests, ideas, information with common interests.  
10. Increases credibility of your website business: 
In accordance with higher bounce rates, good user experience, higher conversion rates, optimized designs following the device's screen size. A responsive website consistently builds all such things, at length to gain customers' trust, and in this way, it increases the credibility of your business's website.